Sep 9th 2021 | Molly Crager
Jay Goodvin is known for a few things. First is his love for all things food, travel, and family. Second is his ability to weave a world with words that puts you right at the heart of the action, and third are his KEY Apparel denim bib overalls that have become nothing short of iconic.
Originally heading off on an 11 year adventure back in 1999 to discover the cuisine and culture offered by different regions of the US, Jay has always returned to his home state of Iowa where he now lives with his wife and children.
Ever the inquisitive soul, Jay uses his love for food and culture to celebrate local businesses, writing all about his expeditions on his hugely successful blog, The Iowa Gallivant (TIG). We recently caught up with Jay to talk about all things gallivanting, road trip apparel, and future plans.
What is the Iowa Gallivant?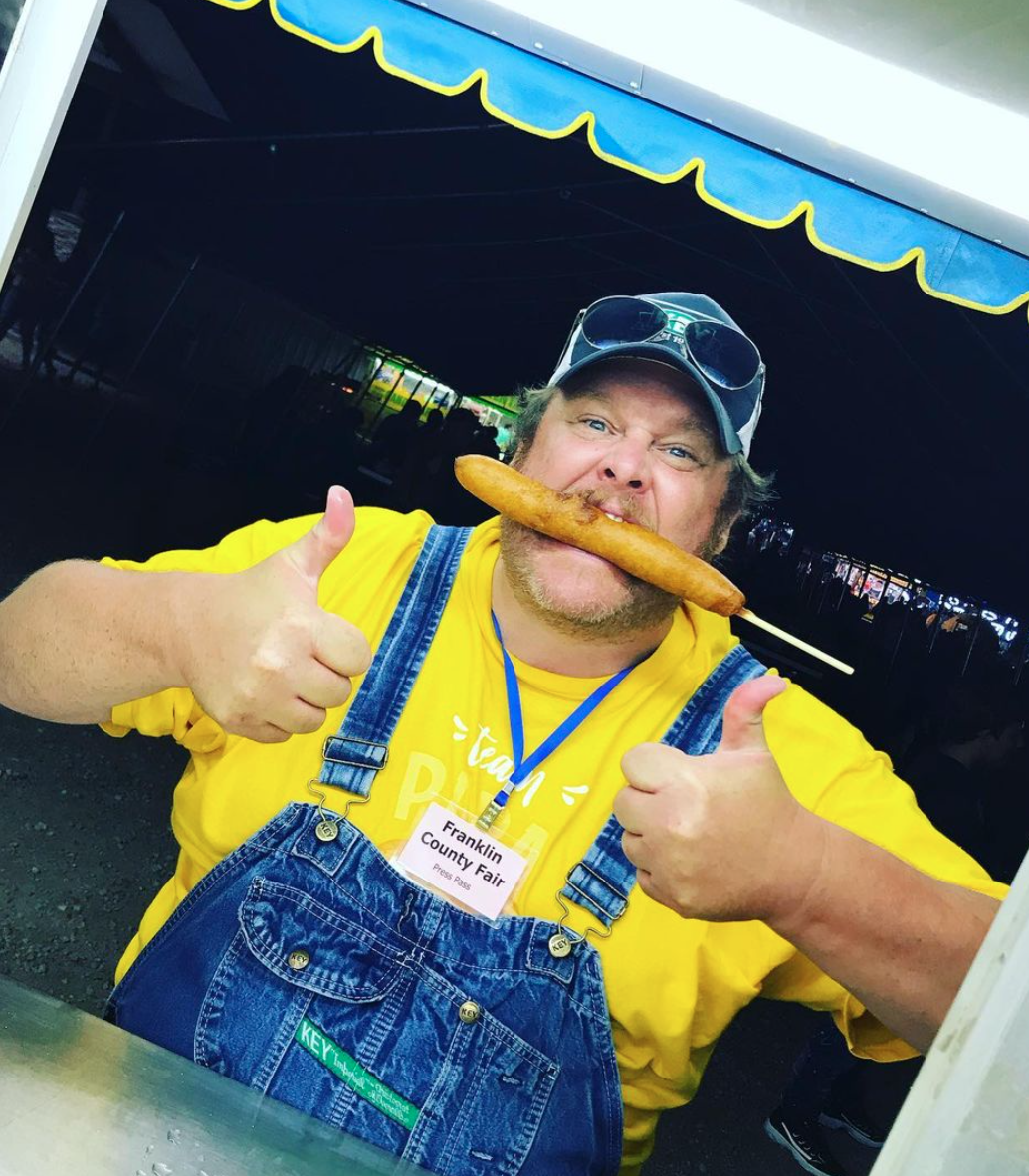 Jay cites hisblog as a celebration of, "the splendor we discover everywhere we go. The smaller the town, the bigger the market." Jay travels to off-the-beaten track urban neighborhoods along with the endless country blacktops on countless rural landscapes in order to share them with the wider world. When asked about his passion for gallivanting, Jay reveals that giving locals the drive to rediscover their own hometowns is something that gives him huge satisfaction, adding, "there's nothing better than hearing how homesick we make some folks!".
We, of course, had to ask Jay about his top destinations, with which he initially answered with the Iowa Gallivant slogan, "Our favorite destination is the next one." However, after some thought, he revealed that he is always lured to river towns of all sizes because of their histories, especially those in the Midwest. When it comes to somewhere he's itching to revisit, Bisbee, AZ and all of Cochise County are number one.
In terms of how Jay does his research on the top spots to visit, he credits the insights and knowledge of locals as the "greatest search engine ever created".
Made for gallivanting: How KEY workwear holds up on roadtrips
Jay always opts for the classic KEY denim coveralls, saying that they make a great unofficial uniform for his role as paraeducator in the special-ed department at South East Junior High, Iowa City. After choosing to wear them for his posts and video content, they've become his signature staple, with people often requesting that he wears them for visits and social posts!
Jays says, "I honestly love how they look on me. People get a kick out of them when I wear my "alls" in places you don't always see them in. Folks in Alabama Beaches were hoping I brought them down a couple summers ago. I guess my next beach trip I better pack them!"
Aside from the classic cut and comfort that they provide, Jay revealed that he's been wearing KEY clothing since he was about a month old! In fact, his family have some KEY overalls that have been passed down to every grandchild for over 50 years.
Jay's grandfather owned a department store in the tiny town of Early, Iowa, and always made sure he had a full stock of KEY workwear, while his other grandfather was a farmer in Adams County, Iowa. According to Jay, he was a giant man, which meant Jay and his cousin could play inside their grandfather's KEY overalls together! "The pant legs were like tunnels and the mid section was like a denim tent,"Jay adds.
In terms of what KEY clothing he recommends, Jay is quick to reply with overalls. He describes them like a trusty baseball mitt that is ready for anything coming its way.
What's next for TIG?
The next Iowa town on Jay's list is Fairfield, which he describes as one of the best food lover destinations in the Midwest, with tons of restaurant choices. From there, he plans to head to Pella/Oskaloosa which is full of Dutch culture for him to uncover. After that, he wants to explore the places he called home before starting his travel writing career. This includes the areas of Arizona, Montana, South Dakota, South Texas, Cape Cod, Florida Keys, and Central Illinois.
The purpose of this, Jay says, is "to make a return to those places and rediscover them all over again. I want so much to recreate some of the classic cross country road trips of my twenties and thirties, but make more stops and connect with more locals".
When he's not out gallivanting, Jay spends his time writing. He recently finished a novel that he is currently pitching to publishers, and has an upcoming book deal on the history of Iowa's meat shops and lockers. Other than that, he enjoys flexing his culinary skills, the art of storytelling, and uncovering obscure pieces of history. In his words, "I guess I'm gallivanting even when I'm not gallivanting!"
Asked for his advice for living a good life, Jay has some food for thought. "You can't spell routine without rut. I like to shake it up a little each day if I can. I love locals of all kinds and finding their humor and stories is my favorite part of life. I always tell folks to never make someone smile if they don't want to. Make 'em laugh.