Dec 9th 2020 | Kaden Wimmer
When you're looking for the best quality workwear, comfort really is key. That's why we specialize in durable gear that works hard and wears well. Whether you're on the farm, in the fields, at the construction site or in the woods, KEY® workwear has got you covered.
What is the best workwear brand?
The best quality workwear for you will ultimately depend on what it is you're looking for in fit, design, and purpose. With plenty of brands out there to choose from, it's always wise to do a little research before making your purchase. Things to look out for are well-established brands that have been operating for a number of years, as well as technical performance specifications such as triple-stitch seams, high-quality waterproofing, and insulated apparel. (And yes, we're biased, but we think there's something for everyone at keyapparel.com.)
112 years of experience in quality workwear
Founded in 1908 to meet the needs of farmers and ranchers working from sunup to sundown, KEY Apparel was shaped around the heavy-duty demands of physical labor while striving to keep things comfortable.
From the very first pair of denim bib overalls with triple-needle stitched seams down to our modern day base layers of high-density yarn, each and every piece is handmade with comfort and durability in mind.

Comfortable workwear for long hours
When working long, manual hours, it's essential that your choice of workwear covers all bases. We've found that some of the most important boxes to tick when it comes to the best quality workwear are flex, breathability, durability, and design. A prime example of ticking all of the boxes is the Bowman Flex Pant, which offers superior comfort and mobility thanks to the cotton-spandex composition and a relaxed fit. They also have abundant pocket options to store all of your essentials and are available in a selection of suitable colors.
We also understand that high-quality comfort isn't a necessity reserved solely for workwear, which is why we also offer a durable range of lifestyle gear with everything from Polar King hoodies to stylish flannels that all offer super-soft fabric and warm fleece composition.
What does high-quality workwear look like?
When it comes to the aesthetics of workwear, high quality is often found in the smaller details. Good quality brands will always take pride in each piece they make. For example, we wouldn't put our signature badge on something we weren't proud to produce, which is why you'll find the signature KEY logo on all of our workwear pieces.
In more recent years, some focus has shifted to the visual design of workwear, with brands aligning the visual quality of their workwear with the design itself. There's a more extensive range of colors and fits available to ensure you're not compromising when it comes to style.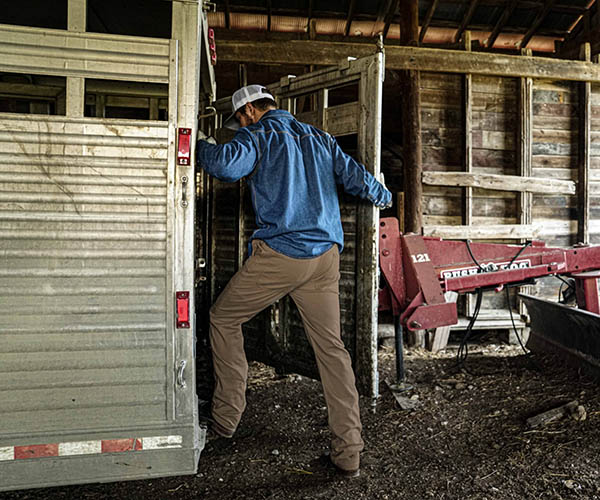 What is workwear fashion?
Once reserved solely for the fields, warehouses, and workyards, heavy-duty denim, cotton and duck fabric is also now beloved by fans of fashion. From the trusty beanie hat to the insulating vest, high-quality workwear brands are now also a staple of many a versatile wardrobe. While this may not be your priority when shopping for quality workwear, it will make the after work transition effortless!
Famously, the appropriation of workwear boots has led to the urbanization of many big name brands, who have gone on to tailor some of their products to a new sub-culture. Similarly, hardy denim jackets favoured by ranchers and sherpas for their warmth and durability are also a staple item when it comes to almost anyone's attire.
For those who want a high-grade quality and durable style solution, workwear is an ideal choice.
How to find the best quality workwear
When you're in search of quality workwear, there are other things you can look for to make sure you're getting the best bang for your buck.
Sizing: One size definitely doesn't fit all. To ensure absolute comfort, it's important to be able to choose from a selection of sizes so you can find something to suit you.
Heavy-duty hardware: The only thing heavy about your workwear should be the zippers. Heavy-duty zippers will ensure longevity and no annoying snags.
Composition: When it comes to pants, bibs and overalls, cotton or denim will ensure a longer lifespan and none of the unwanted itchiness that sometimes comes from cheaper substitutes.
Pockets: An essential during both working and leisure hours, look for the best pocket placement for your needs.

Shop comfortable and high-quality workwear pieces from KEY.