Feb 24th 2021 | Morgan Lea
As part of a regular new blog series, we'll be talking to workers and business owners who choose KEY Apparel as their go-to workwear brand. We'll take a look at why they trust us to help them get the job done, and what it is about KEY that keeps them coming back for more.
Bringing something special to the stage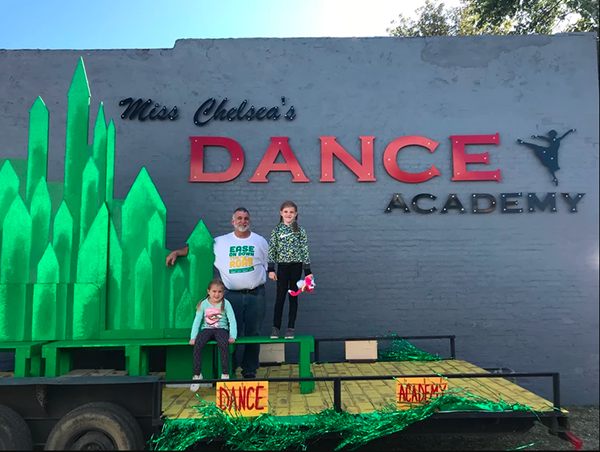 A woodworking hobbyist based out of a home workshop in southeast Kansas, Brad Lea is known for his ability to transform any space into something entirely amazing, thanks to his quality set construction skills. He got started in woodworking when he began helping out at his father-in-law's construction company, and he built up a good tool collection (a few of them even have names!).
Crafting everything from dining tables to cupboards, he credits his favorite hobby, set design, to his daughter's dance studio Miss Chelsea's Dance Academy. (Take a look at some of his amazing sets in the performance pictures - Brad is especially proud of his set designs for Frozen and Beauty and the Beast, two of the most challenging shows to work on.)
Brad now offers his services to his daughter's dance academy as well as other local performing arts institutions, free of charge. He says, "I am grateful that I can provide this service to my community. Anything that I can do to enhance the experience of the dancers, actors, and patrons just feels good."
Workwear to rival the biggest-name brands
Brad enjoys creating in his KEY clothing, mostly due to the comfort and, as he says, "softness on the skin". With full movement being a vital factor in what he does every day, Brad enjoys the vast range of options we offer when it comes to men's quality, comfortable workwear.
Most recently trying out his new Performance Comfort Jeans, Brad was quick to tell us that they are becoming his firm favorites, with a quality that rivals other big-name workwear brands he's tried.
Quality clothing for work and play
Brad credits his classic KEY Insulated Hooded Duck Jacket for keeping warm during this "ridiculous winter weather we've been having", which goes to show that you can also incorporate the endless benefits of quality workwear clothing into your daily downtime. In fact, he's even got his eye on the Insulated Duck Chore Coat.