Jun 21st 2021 | Molly Crager
Ben and Lauren Denny are first generation farmers running a ranch on seventh-generation land in Oklahoma. Known as Simply Country Ranch, the pair went from careers in the construction and teaching industries to raising Scottish Highland Coos, babydoll sheep, alpacas, mini donkeys, chickens, and ducks!
They now run a successful business that involves educating people from around the world about their animals, and have even released a children's book that features one of their beloved border collies, Winston.
With no prior experience in farming, this dynamic duo are living proof that with a little grit, determination, and hard work, you can make your dream life possible. They now have a huge social media community, where Lauren can exercise her passion for teaching and allow students the opportunity to learn about animal care and experience the joys animals can bring through virtual field trips and farm park events.
Lauren credits a lot of their success to social media, saying, "We are very fortunate to have a community on social media that loves our animals as much as we do, and we wouldn't be here without them. They encourage us to keep dreaming big, and are the main push to invite the public to our ranch."
A podcast for the people
As well as the day-to-day running of the ranch and social media, the pair host the Simply Country Podcast, which aims to inspire, educate, and entertain listeners who are curious about farming.
As Lauren didn't grow up around farming, she understands that it can be an intimidating industry to break into. When it comes to her main inspiration for starting the podcast, Lauren tells us that, "I have heard from many individuals who have always wanted to get chickens, own a cow, build a greenhouse, etc., but didn't know how or didn't know anyone who just decided to one day start a new passion. That's where we come in. I want people to feel that they are capable of trying something new even if they don't know everything right away. We are huge believers in jumping in and learning as you go, and asking the questions. I wanted to make information accessible to people who were interested in starting their own farm. On a personal level, it is my form of education as well. I learn a tremendous amount by interviewing people around the country."
The move from 9-5 to farming: how did they do it?
Before they started ranching, Ben owned a construction company and Lauren was a fourth grade teacher. They both had a desire to get into ranching due to getting curious about where exactly their food came from. As well as this, the pair wanted to embark on a more sustainable and gentle life that would allow them to take care of themselves and the land around them. Ben loves a good challenge and the joy of learning new things, and the pair tell us that when you come from a background that is completely outside of the ranching/farming realm, you have to learn to fall in love with the new.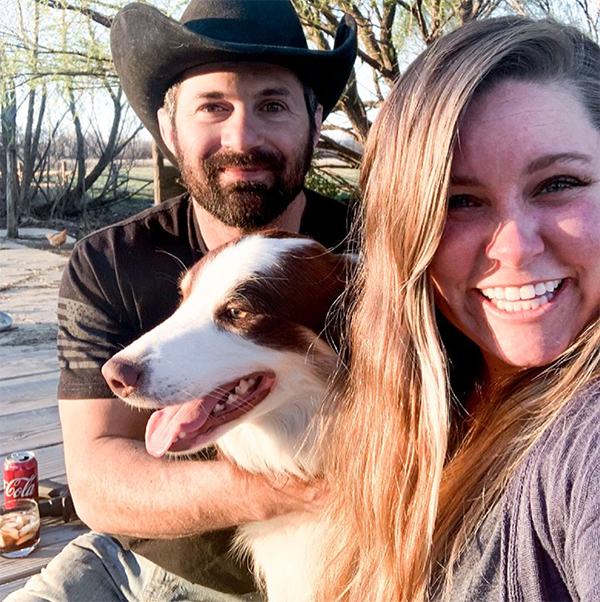 From learning how to plant a hay field to running irrigation, birthing animals and shearing sheep, the couple have had their hands full of new since starting out, and say that, "ranching is a challenge that allows us to continue to learn. We have enjoyed watching our hard work pay off after we accomplished a new task."
Life on the ranch
We asked the pair about their favorite parts of living on the ranch, and Lauren is quick to say that it's all about the combination of tranquility and joy you get from being in such a stunning spot surrounded by animals. She said that in their previous home in the subdivision, they didn't realize how surrounded they were by noise and bustle until moving to the country.
She went on to add that, "when I drive home I feel a weight lifted off my shoulders because you immediately hear the birds chirping and the wind in the trees. We have been sharing the story of our animals on social media and when I hear that other people LOVE the animals as much as I do it puts an extra pep in my step for the day. The animals are a huge passion of mine. They each have their own personality, you can't help but feel at ease when feeding them."
When they're not working on the ranch or the podcast, the pair help out with their family local home decor business, Simply Stained Shop. Aside from that, they spend any spare minutes they can get exploring their new home state.
How KEY Workwear is making ranching life easier
When it comes to workwear on the farm, Ben and Lauren tell us that clothing can make or break your workday. With more holes than trousers, Ben was snagging every pair of jeans he had before KEY came along with quality coveralls. The couple also added that warm clothing is an absolute essential for feeding the animals during the winter months.
Simply Country Ranch are proud to partner with KEY and have clothing that "works as hard" as they do. When it comes to their favorite items, Ben loves the Simply Country Ranch Snapback in black and white, and they both share a love for our soft sweatshirts thanks to the comfortable fabric, tapered arms, and cozy hood.
Ben and Lauren say, "KEY is valuable because when we are working outside, having the right clothing makes all the difference! We have loved partnering with KEY by having our logo on shirts, and that also helps with our brand awareness and other individuals who want to support our family's ranch."