Feb 24th 2021 | Morgan Lea
With more women in agriculture than ever before, here at KEY we decided it was high time that the 128,000 female farmers across America got the recognition they deserve. In celebration of this new, exciting age of agriculture, KEY Apparel have partnered with New York Farm Girls and the American Agri-Women.
From farmers to educators and everything in between, social media platforms have been pivotal in giving many women across America a space to tell their story, some of which have been shared using the hashtag #FaceofaFemaleFarmer.
Who are the New York Farm Girls?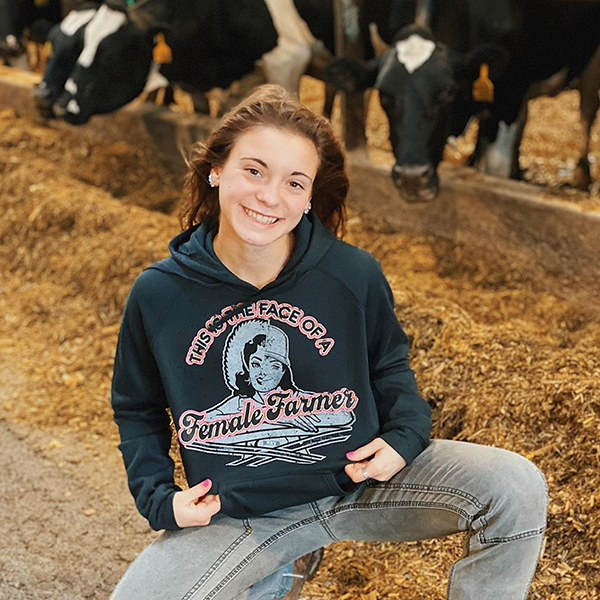 Based in upstate NY, the New York Farm Girls are three sisters keeping a family heritage alive. Now into the fourth generation, their 2,100 acre farm is home to 1,200 dairy cows, lovingly looked after by Evelyn, Claudia, and Jojo.
With huge YouTube, TikTok, and Instagram followings, the sisters aim to debunk the many myths of dairy farming, offer an insight into the day-to-day workings of their family farm, and connect with other farmers.
Often faced with comments and questions about why they chose this path, this is what they had to say about being a female farmer.
"If you saw me in public, not knowing a single thing about me, would you think that I was a farmer? Probably not. If I was wearing overalls covered in manure and dirt, hair a mess, holding a pitchfork, then you might think so.
It's funny how we have developed this image of how a farmer "should look." This farmer wears makeup, likes her hair a certain way, and gets her nails done every once in a while. And guess what? None of that makes her less of a hard worker. Less of a farmer.
We have received COUNTLESS comments along the lines of: You don't need to wear makeup. Take that nose ring out. You don't look like a farmer.
We aren't trying to prove anything in the way that we dress. Farmers don't have to look a certain way. We are ending the stigma of the female farmer.
56% of farms have at least one female producer, and 38% have a female primary producer, meaning the one making the decisions. As the number of male farmers is dropping, the number of female producers rose 27% over the past 5 years!
There are SO many awesome women out there getting it done."
And you have the full support and admiration of the KEY Apparel team!
The Farm Wife - From Childhood Sweethearts to Dream Team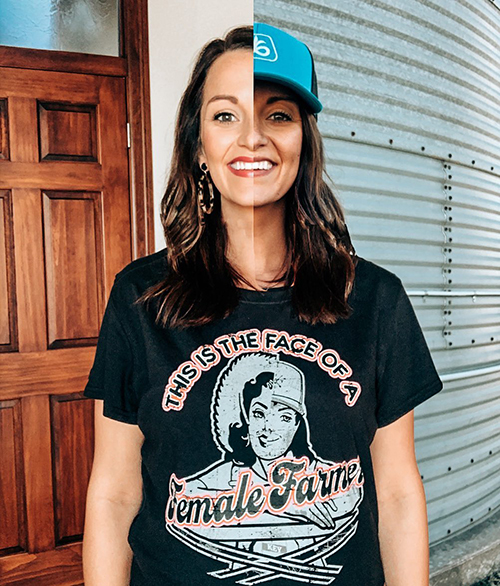 Kylie Epperson never imagined she would spend all of her time fully-emerged in agriculture. Fast forward a few years, babies, blogs, and one successful podcast later, today Kylie is the Grateful Farm Wife. She and her husband Jordan are now fifth generation farmers in north east Missouri, where they live with their three young children.
Kylie has a large following across all of her platforms, and gives what she calls an "honest insight and opinion on how your food is raised". Here's what she had to say about being a female farmer.
"Whether I am all dolled up, sporting cheetah print earrings, or wearing my favorite baseball ball cap with dirt on my face, this face, MY face is the #faceofafemalefarmer.
Being raised in a rural community with no ties to farming whatsoever, I took a chance and joined FFA my freshman year of high school. Between my amazing ag teacher and meeting my now-husband at a poultry judging CDE, I never knew how agriculture would shape my life into what I know and love now.
"But how do you know so much about agriculture when you did not grow up on the farm?" That's a question I often get asked. Here's the easy answer: I listen, I ask questions, and learn by doing. Alongside my business partner, who happens to be my husband, I am a partner, owner, and farmer. I signed the operating loan. I own half of our farm. I keep financial records. I write checks. I make big decisions on our farm.
I do not care where you came from or who you are... once you get involved in agriculture, you will never want to do anything else. It's hard and defeating and risky as hell, but it's also rewarding and incredible and offers so many blessings to our family and many others around the world.
We can analyze how we got here, in agriculture, but I'm sure glad I arrived."
And so are we, Kylie!
Miss Miller - Raising awareness of female farming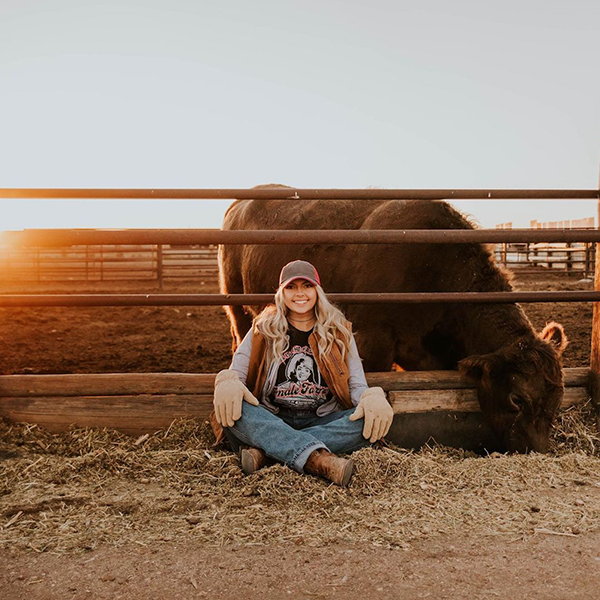 Lindsay Miller, aka Miss Miller, is a fifth generation cattle producer from northern Colorado who credits her passion for agriculture to her dad. Spending her childhood days forking hay to cattle, showing livestock, and riding in the tractor, it came as a shock when she attended high school to find that the majority of people didn't know the slightest thing about farming. Here's just a small part of her story, in her own words.
"I come from a small town where Ag 101 is a required course in middle school, and pretty much everyone is either in FFA or 4-H. It is normal.
For four years I was removed from my small town USA bubble to attend a city 5A high school in the Denver metro area. Reality for me soon set in that so many people didn't even know what ag meant! Heck, this school did not even have an FFA program!
Soon after graduating and returning home, I started an album on Facebook for all of my friends from the city to follow called "Life on the Farm". From that point on, I made it my mission to educate through the power of social media to help bridge the gap between farm and table.
I am so excited to be a part of this new movement of female farming. It doesn't matter if you are taking over the family farm and plant corn in the 8235R, milk the cows, run the books, feed the calves, are the farmer's daughter, farm wife, vet, ranch wife, heck maybe you are majoring in ag business in college - let's support each other!"
Amazing Grayce - How Grayce Emmick is changing the face of farming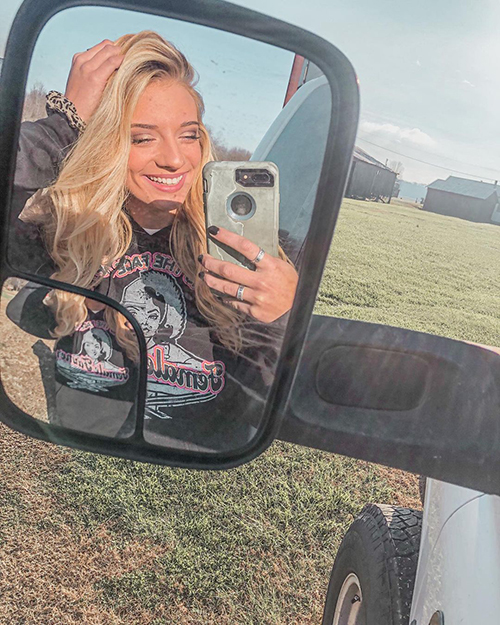 Farmer and photographer, Grayce is an eighth generation farmer in Lewisport, Kentucky. Working daily on a farm run by the Emmick family since 1809, farming is undoubtedly in her blood. Always on hand to help inspire others, Grayce is known for her strength and passion, and this is what she had to say about being a female farmer, and what her large social media following means to her.
"A little bit tired, a little bit of on my toes, a little bit of makeup, a little bit of grease, a little bit of confusion, a little bit of not caring, and a LOT of happiness.
For me, the farm is where mirror selfies happen in the tow mirrors of your pickup. Where you like to do your makeup and nails and hair but don't mind when they're all ruined by 9am. Where your church clothes accidentally became work clothes and your work clothes become you're "going-out" clothes. Where you feel most at home. A place you always find your way back to.
This #femalefarmer is thankful for the opportunities, blessed to have the most supportive family ever, grateful for a place to be treated equally, and so glad to have you guys along with me on this journey."
We're with you and all female farmers, Grayce!
How can you support female farmers?
One thing that all of these inspiring women have in common is that they are each partnered with KEY Apparel to promote our #FaceofaFemaleFarmer movement. The great news is that you can join them, by donating to American Agri Women and by purchasing merchandise from our female farmer collection. In doing so, you'll be directly uplifting and empowering female farmers across the US.