Feb 4th 2021 | Morgan Lea
Facebook. Love it or hate it, it's where billions of people gather every day to engage with their communities, find new groups, meet like-minded souls, and pass the time. It was only natural that one day, a group celebrating the Kansan outdoor landscape and the hobbies of fishing and hunting would be created.
Pass It On - Outdoor Mentors answered the call. A non-profit organization matching adults with a passion for the outdoors with children that want to learn, they created a Facebook group for their Kansas Hunting and Fishing (KSHF) chapter. This group now has nearly 50,000 members since it was first set up in March 2019.
Being Part of a Larger Charitable Organization
Pass It On - Outdoor Mentors, the name behind Kansas Hunting and Fishing, has a mission to pass a love for the great outdoors on to the next generation. And while the mentoring efforts of Pass it On are not the main feature of the Kansas Hunting and Fishing Facebook group, the core values are ever-present.
The group's purpose is to promote outdoor life and bring together hunters and fishermen in Kansas. Members of the group learn, grow, and share their experiences of fishing trips and hunts they have been on, and encourage each other to get out and experience life in the outside world.
Interested in finding out more? Listen to the Kansas Hunting and Fishing podcast, which is dedicated to the men and women of Kansas who love to hunt and fish and available to download from your favorite podcast channel.
About Pass It On - Outdoor Mentors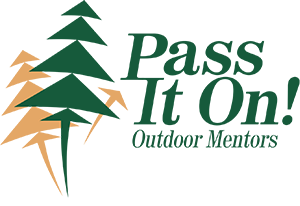 Pass It On is a 501(c)3 organization that works with mentors to provide these same values and similar experiences to children who might not otherwise be able to experience them.
The organization has many facets, including the KSHF Chapter, the Iowa Chapter, Kansas R3, and many more.
If you love the outdoors, are based in Kansas and want to help young people experience life outside, find out more about becoming a mentor for Pass It On.
If you want to show your support in a different way, visit the KEY Apparel KSHF partner store for high-quality KSHF merchandise, including tees, hoodies, and hats.Happy hunting!