Dec 9th 2020 | Kaden Wimmer
It's important to have tough clothing to get the tough jobs done, and there aren't many jobs that are tougher than those involving heat, open flames or electricity. Whether you're a welder, lineman, mechanic or electrician, it's vital that you're protected and comfortable throughout your daily duties.
What is flame resistant workwear?
Based on the name, you might take 'flame resistant' to mean that the clothing is completely fireproof, and it's important to note that this is not the case. Often abbreviated to FR clothing, flame resistant clothing is any garment specifically manufactured to protect the wearer from thermal exposure and intermittent flames.
Designed specifically for those who might find themselves exposed to a sudden flash fire or an electric arc, FR clothing is designed to extinguish itself if it does catch alight.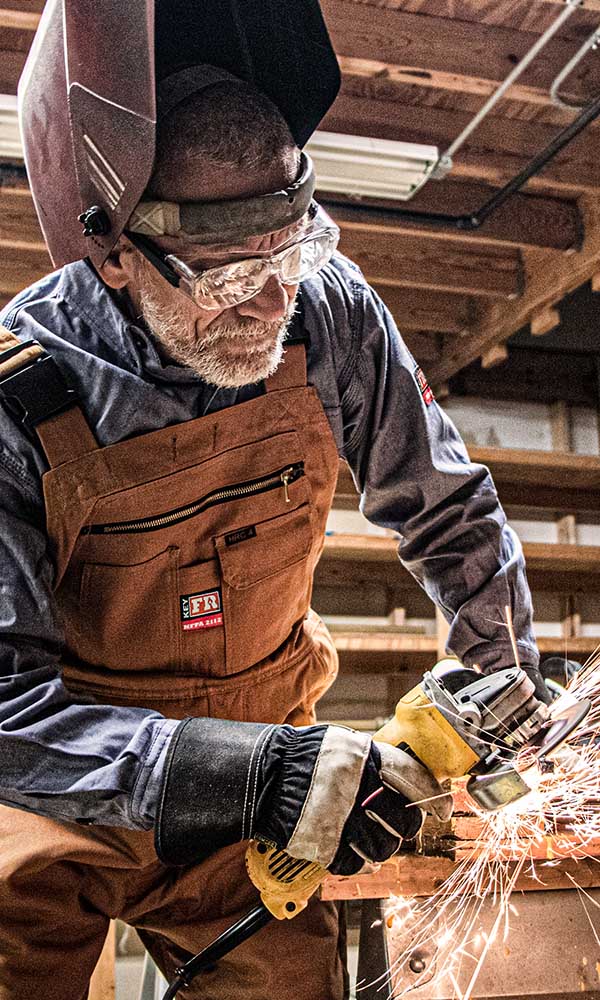 What jobs require flame resistant workwear?
If you're unsure whether your job requires FR clothing, you should approach your employer to check, as they will be able to advise you. Generally speaking, any employees who may be at risk of electric arcs, flash fires or combustible dust should be equipped with FR clothing.
In some cases, especially where an employee may be exposed to an electric arc, there is a legal obligation under the Occupational Safety & Health Administration (OSHA) to avoid wearing clothing materials "made entirely of, or blended with synthetic materials such as acetate, nylon, polyester or rayon."
If you're wearing FR clothing, it's vital you don't wear any of the above materials beneath it, as these are known as "melting" materials and so may end up sticking to your skin and causing a greater injury if you're exposed to extreme heat. Instead, look for undergarments made of 100% cotton.
What's the difference between flame resistant and flame retardant?
The key difference between flame resistant and flame retardant clothing is that flame resistant clothing is made up of inherently non-flammable materials and fabrics, whereas flame retardant clothing has undergone chemical treatment to acquire some of the same properties.
Is flame resistant fabric safe?
In regard to toxicity, flame resistant fabric may be considered a safer, non-toxic alternative to flame retardant clothing, due to the lack of chemicals used. When it comes to the purpose of the fabric, any clothing that complies with the following National Fire Protection Association Guidelines should be safe.
.
.
Hazard level risk ratings explained
To make shopping for FR clothing and workwear easier, refer to the handy guidelines set out by the National Fire Protection Association (NFPA.)
Established in 1896, the NFPA is a world-leading advocate in fire prevention and an authoritative source on public safety.
The NFPA has identified four levels of risk known as a Hazard Risk Category (HRC), which are numbered in severity from one through four, and set out what level of protective clothing you must wear. The table below also correlates the HRC to the required ARC rating, which identifies the protective characteristics of the fabric; the higher the rating, the more protection you have.

What is NFPAⓇ 2112 compliance?
If a piece of fire resistant clothing or outerwear is listed as NFPAⓇ 2112 compliant, it means the materials used have undergone independent testing by third party laboratories to meet the requirements of NFPAⓇ 2112 Standard on Flame Resistant Garments for Protection of Industrial Personnel Against Flash Fire, 2012 Edition.
What is NFPAⓇ 70E compliant?
If a garment is NFPAⓇ 70E compliant, it has been created in line with a work standard published by the NFPA that covers aspects of electrical safety in the workplace.
The KEY commitment to keeping you safe
Working with the latest flame resistant technologies in materials, we strive to produce affordable, high-quality workwear so that you will always be able to complete the job at hand.
While we're confident that our selection of FR clothing is fit for purpose, we would always encourage that you check it is suitable for your specific job role, and that it corresponds to your HRC requirements and ARC ratings.
Explore our range of high-quality flame resistant workwear.